Marina, hygge and Legoland—these three words may be the first that come to mind when you think of Denmark, but there are plenty of other places in this Scandinavian country worth visiting during your travels. These 10 spots are the ultimate bucket list items you need to see while in Denmark, whether you're traveling solo or with your significant other, friends or family. You'll find nature and culture around every corner in this beautiful country, so pack your suitcase and get ready to go on an unforgettable adventure!
1) The Capital – Copenhagen
Copenhagen is the capital and largest city of Denmark. This lively, walkable city has a lot to offer; take your pick from everything from museums to shopping. You can also see the Copenhagen Opera House, or visit Tivoli Gardens, which has been open since 1843. The Langelinie promenade offers great views of the harbor and Nyhavn canal as well.
2) Aarhus
Aarhus is the second largest city in Denmark and has a population of just over 300,000. It's known for being a green city with many parks, bike paths, and waterways. Aarhus is also home to some of the country's most popular festivals like the Aarhus International Jazz Festival and the NorthSide Festival.
3) Sønderborg and the South Jutland Peninsula
If you're looking for a relaxing vacation spot, head to Sønderborg and the South Jutland Peninsula. This area is known for its stunning fjords and expansive beaches, so it's no wonder that it's one of the most popular places to visit in Denmark. In this region you'll find plenty of lovely villages and small towns to explore, as well as notable sights such as the Gammel Estrup Castle and Ribe Cathedral.
4) The Danish Riviera
The Danish Riviera is composed of the Danish islands of Møn, Langeland, Lolland and Falster. The coastline is characterized by steep chalk cliffs and green landscapes with white houses perched on the hillside. The most notable towns are Maribo, Svendborg, Nykøbing Falster, Kerteminde and Nakskov. A number of sandy beaches are found along the coast which are suitable for swimming or sunbathing.
5) Jutland's Littoral Coast
Denmark's Jutland's Littoral Coast is a stretch of coastline that attracts thousands of tourists every year. Home to the longest sandy beach in Europe, this coast has everything you need for an amazing time. From bays with hidden coves and lighthouses to tiny villages and wildlife reserves, this area is a dream destination for those who love nature, culture and history.
6) Funen and Fyn Islands
Funen and Fyn Islands are two islands that are just north of Zealand, the island where Copenhagen is located. Funen Island has Odense as its primary city, a city known for its medieval architecture and beautiful parks. Fyn Island is more rural, with beautiful beaches and rolling hills to explore.
7) Zealand (Sjælland) Island
Zealand is the largest of the Danish islands and the seat of Copenhagen, Denmark's capital. The island is located on the east coast of Zealand and connected to Sweden by a bridge at its narrowest point. Zealand is also home to Roskilde, an 11th-century Viking ship burial site.
8) Viking Sites in Zealand (Sjælland) Island
Viking sites dot the landscape of Zealand (Sjælland) Island (Sjælland), including the longship house museum of Ladby, a burial mound at Rønnebæk, and Viking settlements like Hedeby. One of the most celebrated Viking sites is Ribe, which hosts a Viking Center where guests can learn about life in early medieval Scandinavia.
9) Hiking on Zealand (Sjælland) Island and Fyn Islands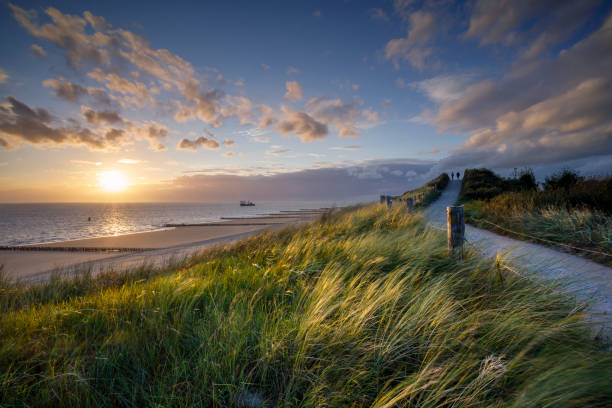 One of the most popular destinations is Zealand Island, where you can hike through lush forests, visit Viking sites and enjoy a swim or paddle on the beach. The Fyn Islands are also popular for its sandy beaches, many of which offer views of dramatic cliffs.
10) Fun cultural attractions, festivals, music, gastronomy.
Denmark has a lot to offer its visitors, with many different things to do and see. Kolding is home to the oldest water castle in Europe, Egeskov Slot. Visitors can enjoy the history of this Danish landmark, which dates back as far as 1350. The castle has been featured on many TV shows and movies, most notably The Wild Geese from 1978 starring Richard Harris, Roger Moore, and Hardy Krüger.